Strategies to Do Reading Comprehension Exercises of Master of Business Administration Learners at Tay Do University in Viet Nam
Abstract
Reading is one of the four important skills in English. Reading includes many aspects and learners approach reading by doing exercises. In reading process, master of business administration (MBA) learners at Tay Do University faced problems in doing exercises, they still could not apply strategies effectively. This study was conducted to find out learners' attitudes toward strategies in reading, their problems in doing reading exercises and ways to do exercises effectively and quickly as well as some suggestions to improve reading skill. The descriptive research was conducted with 51 MBA learners. The instruments were the test of reading comprehension and the questionnaire. The research showed some common kinds of exercises and strategies, which were chosen much by learners through the questionnaire. The result revealed learners' mistakes in doing exercises and found out the reason why strategies were ineffectively applied. In addition, the research also helped learners to understand more clearly about functions of strategies. In brief, if MBA learners want to study reading well, they have to start from simple things of reading which are doing exercises.
Downloads
Download data is not yet available.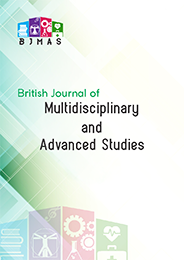 Downloads
How to Cite
Nguyen, N. H. ., & Bui, T. T. . (2022). Strategies to Do Reading Comprehension Exercises of Master of Business Administration Learners at Tay Do University in Viet Nam. British Journal of Multidisciplinary and Advanced Studies, 3(2), 48–69. https://doi.org/10.37745/bjmas.2022.0066
Section
Education, Learning, Training & Development
License
This work is licensed under a Creative Commons Attribution-NonCommercial-NoDerivatives 4.0 International License.