Some Effective Ways to Improve Speaking Skill of English Majored Freshmen at Tay Do University in Viet Nam
Abstract
It is undeniable that speaking skill is very important in learning English. It is a tool to help students find good jobs in the future, especially to work for a foreign company. However, the process of learning and practicing speaking English is not easy, students still get a lot of difficulties. This research was carried out to study some effective ways to improve speaking skill. The participants were eighty-six English majored freshmen of English classes at Tay Do University. Questionnaire was delivered to collect problems. This was a quantitative and qualitative research. The results showed that enriching vocabulary, taking part in an English club, spending more time to practise, working in group, talking to foreigner and enlarging knowledge about culture were the major ways. Basing on these, English learners could find out suitable learning ways to improve their speaking skill. The results of this study may also be useful for those who are interested in this field.
Downloads
Download data is not yet available.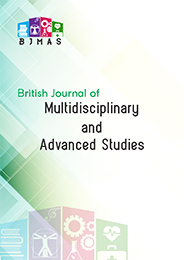 Downloads
Published
11-01-2023 — Updated on 11-01-2023
How to Cite
Nguyen, N. H. . (2023). Some Effective Ways to Improve Speaking Skill of English Majored Freshmen at Tay Do University in Viet Nam. British Journal of Multidisciplinary and Advanced Studies, 4(1), 40–57. https://doi.org/10.37745/bjmas.2022.0092
Section
English Language, Teaching, Communication, Literature and Linguistics
License
This work is licensed under a Creative Commons Attribution-NonCommercial-NoDerivatives 4.0 International License.