The Strategies to do Some Reading Comprehension Exercises Effectively for English Majored Juniors at Tay Do University in Viet Nam
Abstract
 Reading is one of the important skills to master English. This study is to identify the strategies to do some reading comprehension exercises effectively for English majored juniors at Tay do University. The study presents how the participants could get good results in some types of reading comprehension exercises as Multiple choice, Filling in the blank, Matching, True/False, and Figuring out the topic. The participants were forty students of English class. Two main instruments to collect data were the questionnaire and the reading test. Students were given the reading test to evaluate reading levels. Then, they answered the questionnaire. The result showed that most of the participants could apply the reading strategies to do reading comprehension exercises perfectly. Moreover, this study also gave some suggestions to help students to study reading comprehension better and to get the good results in this subject.
Downloads
Download data is not yet available.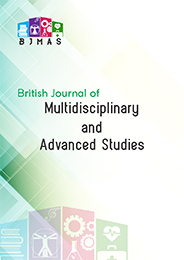 Downloads
Published
06-05-2023 — Updated on 06-05-2023
How to Cite
Nguyen , N. H., & Le, H. T. (2023). The Strategies to do Some Reading Comprehension Exercises Effectively for English Majored Juniors at Tay Do University in Viet Nam. British Journal of Multidisciplinary and Advanced Studies, 4(3), 1–26. https://doi.org/10.37745/bjmas.2022.0184
Section
English Language, Teaching, Literature, Linguistics and Communication
License
This work is licensed under a Creative Commons Attribution 4.0 International License.