Potentialities of Eco-Tourism Industry in Arunachal Pradesh: A Study
Abstract
Eco-tourism is one of the fastest growing industries. Eco-tourism is often perceived as a tool for promoting sustainable development in developing countries. Arunachal Pradesh "the land of dawn-lit mountains" has unparalleled natural beauty with extensive geographical diversity and climatic conditions varying from the tropical to the temperate having a variety of wildlife, flora and fauna.  Objective: The paper aims to find out the potentiality of eco-tourism in Arunachal Pradesh. Methodology: This study is descriptive type in nature based basically on data of secondary sources collected especially from published books, journals, official reports, and websites. Conclusion: Tourism industry can play a vital role in the State. As this sector is a labor-intensive industry, it can open an employment opportunity. A large number of unemployed persons can be employed by this industry. The Government should take necessary steps for development of the industry.
Downloads
Download data is not yet available.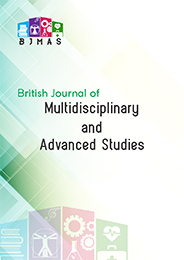 Downloads
Published
06-05-2023 — Updated on 06-05-2023
How to Cite
Mandal, R. K. (2023). Potentialities of Eco-Tourism Industry in Arunachal Pradesh: A Study. British Journal of Multidisciplinary and Advanced Studies, 4(3), 1–13. https://doi.org/10.37745/bjmas.2022.0186
Section
Business and Management Sciences
License
This work is licensed under a Creative Commons Attribution 4.0 International License.