An Assessment of Consumer Awareness and Coverage of Digital Television Services in Uganda
Abstract
Nowadays, e-commerce industry in India, emerges one of the largest growing retail industries in India, during the period of pandemic almost all the sectors or business operations remain closed, but e-commerce industry providing all essential goods and services to the people of India by following COVID related guidelines. Therefore, people of India relying on e-commerce industry instead of local retail market and outcomes of that, e-commerce industry in India increased by 21.5% in 2022 and reaching US $ 74.8 billion. It is also expected that e-commerce industry will grow 84% to $ 111 billion by 2024 as well as US $ 350 billion by 2030. This is the sign of growing and development of e-commerce industry in India. About 830 million (2021) of people using smartphones in India and e-commerce industry is also mainly driven by mobile shopping, social media, etc. So, it is predicted that mobile shopping is increase by 21% annually in next four years. As per the data available 40% of people using mobile wallets, 15% Credit Cards, 15% Debit cards and remaining using other payment system for shopping, this payment mode is also playing vital role in the growth of e-commerce industry in India. Because currently e-commerce industry is not limited up to traditional website, e-commerce players or retailers develops their smartphone-based applications to ease of access and shopping, this system helps to grow number of users of application and it will be converted in to end user or consumer. Therefore, it is become necessary to study the growth and development of e-commerce industry in post pandemic era in India.
Downloads
Download data is not yet available.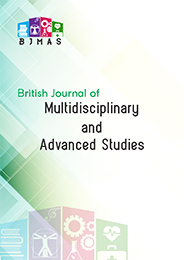 Downloads
How to Cite
Muhereza, . B., Excellence, . F., Makumbi, R. B., & Buwule, H. . (2023). An Assessment of Consumer Awareness and Coverage of Digital Television Services in Uganda. British Journal of Multidisciplinary and Advanced Studies, 4(1), 12–36. https://doi.org/10.37745/bjmas.2022.0082
Section
Business and Management Sciences
License
This work is licensed under a Creative Commons Attribution-NonCommercial-NoDerivatives 4.0 International License.