Poverty: As an Impediment to Girl-Child Education in Akoko Ondo State
Abstract
In recent times, attention has been focused on girl-child education globally and particularly in developing countries. Female-child education is very crucial for the development of any society such that any deliberate neglect of their education could cause danger for the entire society. This is so because female education has been found to have a more significant impact on poverty reduction, reduction of HIV/AIDs and provision of sustainable development. Unfortunately, many factors have been impeding girl-child education in Nigeria. The paper, therefore examined poverty as an impediment to girl-child education in Akoko, Ondo State.The paper was qualitative research. Data were obtained from 200 respondents who are mostly parents using a structured questionnaire developed by the researcher. The questionnaire was duly validated and inferential method was used to analyze the data collected. Results from the study revealed indices of poverty such as low earning of some parents, poor parental educational attainment, some parents being poor and having too many children as issues impeding girl-child education in Akoko, Ondo State that need to be addressed. It was concluded that children, respective of their gender be given equal access and opportunities of qualitative education to enable them reach their full potentials and contribute meaningfully to the development of their communities. Based on the findings of the study, it was recommended that government should make education compulsory, free and affordable to all children especially the girl-child, provision of employment opportunities to citizens to empower them to be financially stable to cater for their family need, sensitization of members of public on the number of children they could have and provision of interest free student loans especially to the girl children.
Downloads
Download data is not yet available.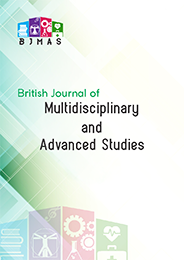 Downloads
Published
16-12-2022 — Updated on 03-01-2023
How to Cite
Saka-Olokungboye, N. ., Ilugbami, F. M. ., Ilugbami, J. O. ., & Olateru-Olagbegi, O. . (2023). Poverty: As an Impediment to Girl-Child Education in Akoko Ondo State. British Journal of Multidisciplinary and Advanced Studies, 3(2), 64–77. https://doi.org/10.37745/bjmas.2022.0063 (Original work published December 16, 2022)
Section
Arts, Humanities and Social Sciences
License
This work is licensed under a Creative Commons Attribution-NonCommercial-NoDerivatives 4.0 International License.