Response of Lowland Rice to Rice Crop Specific Npk Fertilizer at Badeggi Central Nigeria
Abstract
The trial was carried at National Cereals Research Institute Lowland Experimental field in the year 2019 and 2020 to evaluate the response of lowland rice to application of Rice Crop Specific NPK fertilizer 1and commercial NPK fertilizer which was applied at two levels each recommended blanket rate of 80:40:40 NPK/ha and higher rate of 120: 60:60 NPK/ha for lowland rice as well as the control (Zero fertilizer). The results indicated that application of fertilizer has significant effects on rice growth there by increased the height of rice at different weeks after fertilizer application compared to control. Rice straw and grain yield production was significantly affected with application and the rates. RCS fertilizer applied at 120:60:60/ha produced higher tonnage of rice straw and grain while application of RCS fertilizer at 80:40:40/ha produced similar rice straw and grain yield with application of NPK 15: 15:15: at rate of 120:60:60/ha. There the adoption of RCS-NPK formulation at rate 80:40:40 kg/ha is recommended against the higher rates from commercial NPK  to save cost for the resources poor farmer.
Downloads
Download data is not yet available.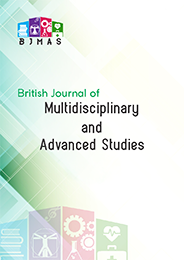 Downloads
Published
08-12-2022 — Updated on 03-01-2023
How to Cite
Ibrahim, . P. A., Gbanguba, , U. A., & Madukwe, . D. (2023). Response of Lowland Rice to Rice Crop Specific Npk Fertilizer at Badeggi Central Nigeria. British Journal of Multidisciplinary and Advanced Studies, 3(2), 19–26. https://doi.org/10.37745/bjmas.2022.0056 (Original work published December 8, 2022)
License
This work is licensed under a Creative Commons Attribution-NonCommercial-NoDerivatives 4.0 International License.