Types of Observation Methods in Translanguaging Multilingual Classes, Reliability and Ethics Involved
Abstract
The use of the observation method in a classroom takes different dimensions according to the subject and practices the researcher wants. A translanguaging class possess its own unique challenges to the researcher. Amongst the many is who, what, where, when and how to observe the practices. These scenarios are answered with the researcher taking the role of a complete participant observer, participant as observer, observer as participant or as complete observer. These roles are discussed in line with five translanguaging classroom practices and their possible challenges. Reliability and validity of using observation is discussed together with related ethical issues in the last section.  Observation can be used when the researcher is satisfied with the conditions which have to be created in order to collect the needed data. Race, religion, language and attitude are some aspects which have to be dealt with when conducting such a study in the new environment where the researcher is alien.
Downloads
Download data is not yet available.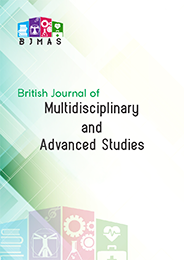 Downloads
Published
13-11-2023 — Updated on 13-11-2023
How to Cite
Nyimbili , F., & Nyimbili , L. (2023). Types of Observation Methods in Translanguaging Multilingual Classes, Reliability and Ethics Involved . British Journal of Multidisciplinary and Advanced Studies, 4(6), 16–23. https://doi.org/10.37745/bjmas.2022.0347
Section
English Language, Teaching, Literature, Linguistics and Communication
License
This work is licensed under a Creative Commons Attribution 4.0 International License.