Returning to Work After Sickness Absence Due to Low Back Pain: A Poetic Representation
Abstract
The purpose of this project was to capture the voices of clients through a poetic representation of their experiences and perceptions as they shared their stories of returning to work after a period of sickness absence following an episode of LBP. A retrospective evaluation of electronic chart notes of clients at an occupational health clinic in London, United Kingdom presenting with LBP who were returning to work were reviewed over a six-month period from January 2023 to June 2023. Verbatim comments of clients about their experiences and perceptions were extracted from the electronic chart notes and analysed thematically. A total of 68 electronic chart notes were retrieved and reviewed by a senior physical therapist. A poem called "The struggle within" was developed to represent the experiences and perceptions of clients as they shared their stories. Healthcare professionals should engage not only in evidence-based interventions, but also with the narratives and stories of individuals to ensure a more holistic approach. A poetic representation is one way that healthcare professionals can frame these dialogues. 
Downloads
Download data is not yet available.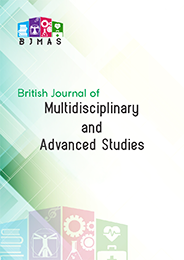 Downloads
Published
15-09-2023 — Updated on 15-09-2023
How to Cite
Chetty, L. (2023). Returning to Work After Sickness Absence Due to Low Back Pain: A Poetic Representation. British Journal of Multidisciplinary and Advanced Studies, 4(5), 1–8. https://doi.org/10.37745/bjmas.2022.0301
Section
Health and Medical Sciences
License
This work is licensed under a Creative Commons Attribution 4.0 International License.