Smart Cities Adoption in Saudi Arabia: A Comprehensive Review and Future Drivers
Abstract
This theoretical paper aims to provide an extensive overview of the adoption of smart cities in Saudi Arabia. With rapid urbanization and the increasing need for sustainable and efficient urban development, smart city initiatives have gained significant attention globally. Saudi Arabia, being one of the fastest-growing economies in the Middle East, has recognized the potential of smart cities in enhancing the quality of life, optimizing resource management, and promoting economic growth. Through an in-depth analysis of existing literature, this paper explores the key drivers, challenges, and opportunities associated with the adoption of smart cities in Saudi Arabia. It also discusses the roles of various stakeholders and presents a comprehensive roadmap for the successful implementation of smart city initiatives in the country.
Downloads
Download data is not yet available.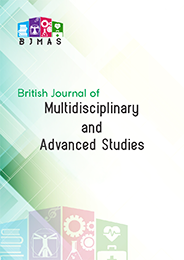 Downloads
Published
15-09-2023 — Updated on 15-09-2023
How to Cite
Al Jaafreh, M. B., & Allouzi, M. A. (2023). Smart Cities Adoption in Saudi Arabia: A Comprehensive Review and Future Drivers. British Journal of Multidisciplinary and Advanced Studies, 4(5), 20–39. https://doi.org/10.37745/bjmas.2022.0300
Section
Engineering and Technology
License
This work is licensed under a Creative Commons Attribution 4.0 International License.