A Scientometrics Report on Policies for Managing Decommissioned Solar Power Systems in The Niger Delta
Abstract
The region of the Niger Delta has seen a significant increase in the use of solar power systems (SPSs) to meet the energy needs of its people. As these systems approach their end-of-life, it is vital to have proper handling techniques to limit their impact on the environment and make the most of resource reuse. This article focused on examining the government guidelines for dealing with SPSs that have been decommissioned within the core Niger Delta region. The research used a quantitative method, with questionnaires serving as the tool for collecting data. Thirty-six officials from government agencies in the core three States were examined on the policy structure applied to decommission SPSs. The research utilized both descriptive and detailed statistical methods to interpret the data and discuss the findings. It was uncovered that government personnel are lacks the understanding of policies that encourage renewable and environmentally friendly energy methods in the installation of SPSs and their administration at end-of-life. Among the suggestions, it was noted that governmental bodies must adopt and integrate the essential 8 policy instruments and practice lasting handling techniques for dealing with waste from SPSs within the policy structure applied in the study area.
Downloads
Download data is not yet available.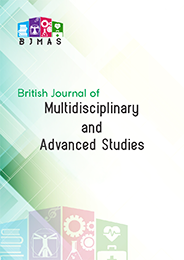 Downloads
How to Cite
John, R. A., Okorhi, O. J., & Uhunmwangho , R. (2023). A Scientometrics Report on Policies for Managing Decommissioned Solar Power Systems in The Niger Delta. British Journal of Multidisciplinary and Advanced Studies, 4(5), 1–19. https://doi.org/10.37745/bjmas.2022.0293
Section
Engineering and Technology
License
This work is licensed under a Creative Commons Attribution 4.0 International License.