Growth Performance and Histopathology of Clarias Gariepinus Fed Toasted Canavalia Ensiformis Diet
Abstract
Fish farms output and profits have been facing a greater challenge with a hike in the price of feed ingredients. This study was designed to evaluate the growth performance and histopathology of clarias gariepinus fingerlings fed Toasted Canavalia ensiformis seed meal diets.Toasted Canavalia ensiformis meals were used to formulate five different 40.0% isoproteic diets each at 0%, 25%, 50%, 75% and 100% and coded TCe, which were fed at 5% body weight to fingerlings of Clarias gariepinus fingerlings. One hundred and fifty Clarias gariepinus (0.96g±0.03 and 3.93cm±0.28) were randomly assigned to five treatments of 10 fingerlings, replicated three times in a completely randomised design (CRD) in 35L plastic circular bowls through a semi-flow-through system for 84days. Weights and lengths were measured biweekly and used to calculate the growth and nutrient utilization parameters. Histopathology of the fish organs were evaluated. Data collected were analysed using a one-way analysis of variance. Results from the statistical analysis revealed significant differences (p<0.05) in the specific growth rate as the inclusion levels of the tested meals increased. Histopathological changes in the liver cells (hepatocytes) such as mild and severe diffuse vacuolations of the hepatocytes, vacuolar degeneration. Tubule disruption and necrosis were observed in the kidney of fish, blood congestion, cellular hypertrophy, loss of epithelial cell and coagulation necrosis of the lamellae was observed in the gills.This study, therefore, suggested that Clarias gariepinus fingerlings can feed on up to 25% inclusion level Toasted Canavalia ensiformis diet without adverse effects on the growth performance.
Downloads
Download data is not yet available.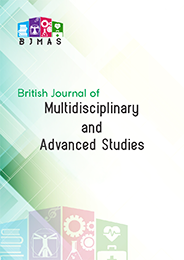 Downloads
Published
09-09-2023 — Updated on 09-09-2023
How to Cite
Michael, K. G., Sogbesan, O. A., & Drambi , M. (2023). Growth Performance and Histopathology of Clarias Gariepinus Fed Toasted Canavalia Ensiformis Diet. British Journal of Multidisciplinary and Advanced Studies, 4(5), 14–32. https://doi.org/10.37745/bjmas.2022.0288
License
This work is licensed under a Creative Commons Attribution 4.0 International License.