Education as a Vaccine Against Girl Child Bullying
Abstract
The importance of education in the life of girl child cannot be overemphasized. The bible book of Hosea 4: 6 says, "my people are destroyed for lack of knowledge". Knowledge empowers a person against intimidation and other social vices.  As a vaccine, education protecting one from harmful social vices in the social which the girl child is the most vulnerable. This is because it opens your eyes and prepares you to defend yourself on any issue. An educated person is vaccinated against different types of abuses because education makes you know your right and privileges. The uneducated persons are the most bullied.  Bullying takes place at school, place of work, home, community etc. Education makes you a balanced personality and enables you contribute positively to your home, church, place of work and the society at large. With education you become an asset to your home and society; and you will be given important positions like the above-mentioned women. Everyone should get educated. Parents, government and the society should be interested in the welfare of the girl child and counsellors should be sent to schools to counsel both the bullies and the bullied. It helps you stand out, bold, eloquent etc. With education no one can force you into marriage, you will know the types of things you need/desire in life and go for them. Be patient in getting education. Education is power. It protects and liberates one.
Downloads
Download data is not yet available.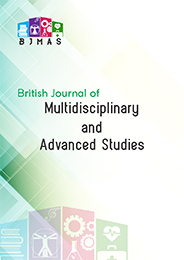 Downloads
Published
29-05-2023 — Updated on 29-05-2023
How to Cite
Maduelosi, J. N., & Ezuluofor, M. U. (2023). Education as a Vaccine Against Girl Child Bullying. British Journal of Multidisciplinary and Advanced Studies, 4(3), 1–8. https://doi.org/10.37745/bjmas.2022.0207
License
This work is licensed under a Creative Commons Attribution 4.0 International License.