Green Practices in The Hotel Industry: Proposed Implications to The Environmentally Appropriate Programs
Abstract
This study explores the green practices of the hotel industries in one of the cities in Northern Mindanao, Philippines with the intention of utilizing the findings as basis for the implementation of a proposed environmentally appropriate programs. The study gave emphasis on the participant's extent of awareness and participation towards green practices of the hospitality industry in the city in terms of green energy consumption, water and liquid waste management, air quality management, solid waste disposal management and noise control management. The participants consisted of 88 personnel from the different DOT accredited hotels in Cagayan de Oro City. Based on the findings, the participants are much aware on the extent of their awareness on the green practices on water and liquid waste, green energy consumption, air quality management, solid waste disposal and noise pollution control. Among the green practices variables, air quality management has the highest mean. The participants' extent of participation on the green practices was rated great extent. Among the variables, water and liquid and waste management, air quality management, and solid waste disposal and management got the highest mean rating. While noise pollution control got the lowest mean rating. The test of relationship between the participants' awareness and their extent of participation of the green practices in hospitality industry shows that awareness of the green practices is significantly associated with the extent of practice.
KEYWORDS: Green practices, hotel industry
Downloads
Download data is not yet available.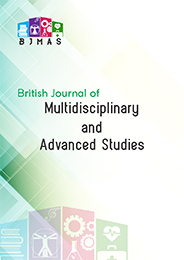 Downloads
Published
18-05-2023 — Updated on 18-05-2023
How to Cite
Dael, R. J., & Saab, R. A. (2023). Green Practices in The Hotel Industry: Proposed Implications to The Environmentally Appropriate Programs. British Journal of Multidisciplinary and Advanced Studies, 4(3), 14–34. https://doi.org/10.37745/bjmas.2022.0195
Section
Business and Management Sciences
License
This work is licensed under a Creative Commons Attribution 4.0 International License.