College Students' Engagement and Self-Regulated Learning Strategies: Its Influence to The Academic Performance in The Flexible Learning Modality
Abstract
College instructors face the daunting task of keeping students actively engaged in class discussions, particularly in the context of flexible learning. This descriptive-correlational research aimed to determine whether students' engagement and self-regulated learning strategies affect their academic performance. The participants consisted of 202 college students enrolled in the first semester of SY 2022-2023 in one of the private institutions of Cagayan de Oro City. The data were gathered using the modified questionnaire adopted from Erickson et al (2015) on Self Regulations and Hart et al. (2011) on Student Engagement. Data gathered were analyzed using descriptive statistics and multiple regression analysis. Students' engagement included the behavioral, cognitive, and affective domains as espoused by Fredricks et al. (2004). Meanwhile, the self-regulated learning strategies were confined to planning, monitoring, and evaluating as proposed by Zimmerman (2008). Overall data revealed that the participants were highly engaged and had highly self-regulated learning strategies. Students' engagement significantly predicted academic performance with Behavioral engagement that stood out as the best predictor.  On the other hand, self-regulated learning strategies do not significantly predict students' academic performance. The study highlighted the urgency for educators to find creative means of motivating students to effectively engage in the pedagogical process and introspect on their learning strategies to foster academic progress.
Downloads
Download data is not yet available.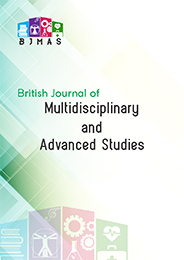 Downloads
Published
18-05-2023 — Updated on 18-05-2023
How to Cite
Cabrejas, M. M., & Mendoza, R. O. (2023). College Students' Engagement and Self-Regulated Learning Strategies: Its Influence to The Academic Performance in The Flexible Learning Modality. British Journal of Multidisciplinary and Advanced Studies, 4(3), 73–84. https://doi.org/10.37745/bjmas.2022.0193
Section
Education, Learning, Training & Development
License
This work is licensed under a Creative Commons Attribution 4.0 International License.