Evaluation of the Feasibility of Utilizing Composted Sludge from Leather Industry Wastewater in Sudan
Abstract
The objective of this study is to assess the potential for composting chromium-rich sludge from the leather industry wastewater in Sudan, with the aim of removing or capturing heavy metals before they can leach into the surrounding environment. "This research aims to evaluate the pH, organic matter, total nitrogen, phosphorus, potassium, and calcium content of compost made from leather industry wastewater sludge, as well as determine the level of bioavailability of heavy metals. To create the compost, the leather industry wastewater sludge was mixed with organic waste such as chicken manure, rice bran, and sawdust in various ratios, and then shaped into block piles for the composting process. The results indicate that for the recommended block-shaped piles, the organic content decreased from 30% to 25%, while the pH value and NPK content were satisfactory for composting. Additionally, the total heavy metal content, including Cr, Cd, Cu, Pb, Mn, and Zn, was well below the upper limit standard for biosolids, which classifies the compost as excellent." "The compost was found to be free of Salmonella sp., Shigella sp., and helminth eggs, and there was a 103-fold decrease in total coliforms. The compost characteristics indicated that it was mature, and the germination index for cabbage seeds was 85.5%, which suggests that most of the phototoxic compounds were removed."
Downloads
Download data is not yet available.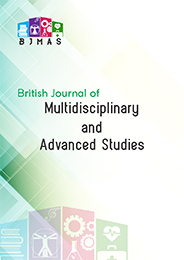 Downloads
Published
06-05-2023 — Updated on 06-05-2023
How to Cite
Haroun, M. (2023). Evaluation of the Feasibility of Utilizing Composted Sludge from Leather Industry Wastewater in Sudan. British Journal of Multidisciplinary and Advanced Studies, 4(3), 1–13. https://doi.org/10.37745/bjmas.2022.0185
Section
Health and Medical Sciences
License
This work is licensed under a Creative Commons Attribution 4.0 International License.