Social Media as a Determinant of Students' Dropout Rates in Secondary Schools in Kenya
Abstract
Education is the natural right of every human being and is an integral part of every human life. The purpose of the study was to investigate the influence of social media on secondary school students' dropout in public day secondary schools in Kenya. The article is an extract from a study done in public day secondary schools in Kitui central sub-county, Kitui County, Kenya. The study was guided by Bertalanffy's Systems Theory. The study adopted descriptive survey research design. The study population was 25 schools and a sample size of 384 comprising of 22 principals, 22 form three class teachers and 340 form three students. Questionnaires for principals, class teachers and students were used to collect both quantitative and qualitative data. Data analysis was done using Statistical Package for Social Sciences (SPSS) version 26. The corelation analysis results on principals' responses showed a strong correlation (r=0.675. p=0.006) between social media and students' dropout rate. A strong correlation (r =0.612, p =0.022) between social media and students' dropout rates was also shown when the class teachers' responses were analysed. However, corelation analysis of the students' responses showed a weak correlation (r=0.214, p=0.041). The researcher therefore concluded that students drop out of school is influenced by social media. The study thus recommended that the community, teachers, and parents should educate students on good use of social media so as not to misuse it.  
Downloads
Download data is not yet available.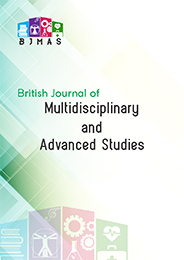 Downloads
Published
06-05-2023 — Updated on 06-05-2023
How to Cite
Muthami , K., Mwania, J. M., & Cheloti, S. K. (2023). Social Media as a Determinant of Students' Dropout Rates in Secondary Schools in Kenya. British Journal of Multidisciplinary and Advanced Studies, 4(3), 1–15. https://doi.org/10.37745/bjmas.2022.0183
Section
Education, Learning, Training & Development
License
This work is licensed under a Creative Commons Attribution 4.0 International License.