Toxicity and the Effects of Ethanolic Leaf Extract of Annona senegalensis on Haematological Parameters in Albino Rats
Abstract
Ethanolic leaf extract of Annona senegalensis was studied for acute toxicity and some haematological parameters in albino rats. The method described by Karbar as modified by Aliu and Nwude was used for acute toxicity study in 30 albino rats. One hundred rats were randomly selected into five groups of 20 rats each, that is, groups 1-5, group 1 was the control and groups 2-5 were administered the ethanolic leaf extract for 28 days of the doses of 100, 200, 300 and 400 mg/kg respectively and blood samples were collected for the determination of the haematological parameters using standard methods described by Coles and Schalm. The extract was screened for phytochemical and elemental components using standard protocols. The phytochemical screening revealed the presence of carbohydrates, cardiac glycosides, terpenoids and flavonoids. The elemental screening revealed the presence of some elements in milligram per kilogram concentration such as 7.202 for iron, 0.893 for copper, 6.637 for magnesium, 0.014 for lead, 0.070 for chromium, 0.057 for cadmium, 0.604 for cobalt, 1.732 for zinc and 2.362 for manganese. The acute toxicity study was 2400 mg/kg which is classified as non label according to the report of Organization for Economic Cooperation and Development (OECD) which means it is tolerable at that level. The prolonged administration of the ethanolic extract showed significant increase (P<0.05) in White Blood Cell (WBC), Red Blood Cell RBC), Packed Cell Volume (PCV), Haemoglobin concentration (HB), Platelet Count (PLT) and Differential Leucocytes Count (DLC) throughout the duration of the study. In conclusion the ethanolic extract is found to be tolerable and an increase in the haematological parameters in the treated albino rats, thus, has a good immune boosting and treatment of anaemia potentials.
Downloads
Download data is not yet available.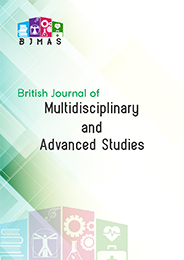 Downloads
Published
02-05-2023 — Updated on 02-05-2023
How to Cite
Mbaya, Y., Bobbo, A., Barkindo, A., & Hayatu, A. (2023). Toxicity and the Effects of Ethanolic Leaf Extract of Annona senegalensis on Haematological Parameters in Albino Rats. British Journal of Multidisciplinary and Advanced Studies, 4(2), 81–100. https://doi.org/10.37745/bjmas.2022.0175
License
This work is licensed under a Creative Commons Attribution 4.0 International License.