Investigating the Effective Technique Used by Secondary School Students in Strengthening Reading Comprehension
Abstract
This study aims at investigating the effective technique used by secondary school students in strengthening reading comprehension. The study adopted the experimental method.  Pre-posttest test is used as a primary tool for data collection. The population of the study is year students of English- College of Education at SUST. The sample of study drawn from the population consisted of 44 students who were selected randomly. This study used the statistical package for social science (SPSS) program to analyze and verify the hypotheses.  The results showed that pre-test and posttest show that there are statistical significance differences among the respondents of experimental group in terms of reading technique. On the other hand, students unable to use scanning techniques while practicing reading in the classroom. Furthermore, students do not use skimming technique for obtaining general information. The study recommended that students should be aware about different types of reading skill.  Teachers should consider students' level when using reading techniques.
Downloads
Download data is not yet available.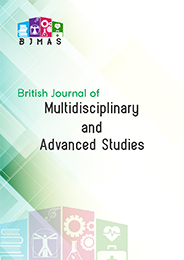 Downloads
Published
23-03-2023 — Updated on 23-03-2023
How to Cite
Ishag, E. I. H., Ahmed, S. M. A., Abdalhaliem, A. . E. M., & Mohammed-Noor, T. M. H. (2023). Investigating the Effective Technique Used by Secondary School Students in Strengthening Reading Comprehension. British Journal of Multidisciplinary and Advanced Studies, 4(2), 95–101. https://doi.org/10.37745/bjmas.2022.0141
Section
Education, Learning, Training & Development
License
This work is licensed under a Creative Commons Attribution 4.0 International License.