Inculcating National Values in Pupils of Primary Schools in Ado Ekiti, Nigeria
Abstract
This study investigated the moral decadence among primary school pupils; inculcation of national values in primary pupils, methods of teaching adopted by teachers and moral value subjects available in primary school curriculum in Ado-Ekiti, Ekiti state. The population of the study comprised the entire primary school teachers in Ado Ekiti. A total of 200 (two hundred) primary school teachers selected from 40 (forty) primary schools constituted the sample of the study. The primary school teachers were selected using simple random sampling and judgmental techniques. A self-designed questionnaire titled "Inculcating National Values in Primary School Pupils" (INVP) was adapted and used with four distinct sections. The construct and content validity of the INVP were ascertained by experts in Educational Management and Tests & Measurement Departments. The internal reliability of the instrument was ensured, and it stood at 0.88. Data collected were analyzed and the research questions were answered using descriptive statistics such as frequency count, percentage, mean and standard deviation. The study revealed that the extent of moral decadence was high despite the inclusion of the subjects that could teach moral values in the school curriculum. Moral values were not adequately taught in the sampled primary schools. Pictures, discussions and role play methods with the aid of textbooks were used in teaching national values. The study concluded by recommending that parents should inculcate moral values into homes as schools build on the foundation set by the homes. Appreciating good actions and demonstrations by role models were seen to be the best methods of inculcating national values in primary school pupils.  Discussions, pictures and role play methods of teaching are the best ways of inculcating national values in primary school pupils.
Downloads
Download data is not yet available.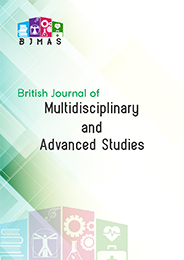 Downloads
Published
22-03-2023 — Updated on 22-03-2023
How to Cite
Aina, A. C. (2023). Inculcating National Values in Pupils of Primary Schools in Ado Ekiti, Nigeria. British Journal of Multidisciplinary and Advanced Studies, 4(2), 84–94. https://doi.org/10.37745/bjmas.2022.0137
Section
Education, Learning, Training & Development
License
This work is licensed under a Creative Commons Attribution 4.0 International License.