Changing the Status of Women in Society
Abstract
Every society consists of men and of women. Woman is the leader planner of the family. Women are consistently made conscious of their importance in creating a flourishing society slowly. They are able to successfully juggle their personal and work lives. Women today handle their household responsibilities and tasks, manage a career outside the home, care for their children, and strike a balance between their personal and professional life. Women have every opportunity in the society to succeed, grow, and realize their full prospective. According to Sentinel (2020)2, things have been gradually improving for women in recent years. In all key fields, women are steadily making progress. In order to build their own identities outside of the home and beyond only taking care of their families and cooking, modern women must step outside of their comfort zones. The study were utilized both primary and secondary sources which was gathered by questionnaire surveys using simple random methods. The sample size for these study was1375 respondents. According to the study findings 91.4 percent of women reached up to graduate level and 95.7 percent of women educated up to post graduate level Respectively living apart from only the 78.6 percent of women still found to be illiterate among the studied respondents. Moreover, the Pearson X2 test at the 0.000 level also strongly suggests that there is a positive correlation between an independent variable, such as the educational level of women respondents, and their self-belief in an independent variable, such as the current Government policies and its impact on changing the status of household women as such.
Downloads
Download data is not yet available.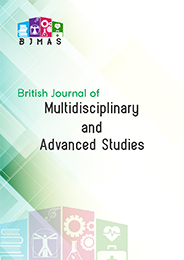 Downloads
Published
12-03-2023 — Updated on 12-03-2023
How to Cite
Sultanpur, M. N. (2023). Changing the Status of Women in Society. British Journal of Multidisciplinary and Advanced Studies, 4(2), 42–52. https://doi.org/10.37745/bjmas.2022.0127
Section
Arts, Humanities and Social Sciences
License
This work is licensed under a Creative Commons Attribution 4.0 International License.