Representation of Nigerian Internet Scamsters in selected Nigerian and International News Reports
Abstract
Linguistic studies on Nigerian internet scamsters have dwelt on the aspects of language use. These studies focused on the linguistic features, slangy expressions, discourse and persuasive strategies used by scamsters in scam messages. However, the aspect of media representation of the social actors of Nigerian internet fraud has not been given adequate attention.  This study, therefore, explores the representation of social actors of Nigerian internet fraud in Nigerian and international news reports. Headlines and news contents are purposively sampled from forty-five news articles published between 2019 and 2021, from two Nigerian newspapers and two international news media. Guided by Halliday's Systemic Functional Grammar (SFG) and Van Leeuwen's early work on social actor representation (1996), ten forms of representations were identified. Nigerian Internet Scamsters were represented as educated, role models, imposters, parentally supported, abductors, wrong ambassadors/negative nationals, friends to the security agents, desperate/money ritualists, guilty and convicted, exploiters and victimizers. The negative connotation of these labels indicates that the media are not neutral in their representation of scammers. This study shows that the representation of the social actions and actors in internet fraud are linguistically and discursively framed to fit their ideology.
Downloads
Download data is not yet available.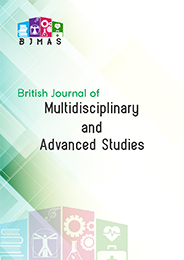 Downloads
Published
12-03-2023 — Updated on 12-03-2023
How to Cite
Olawe , O. E. (2023). Representation of Nigerian Internet Scamsters in selected Nigerian and International News Reports. British Journal of Multidisciplinary and Advanced Studies, 4(2), 21–41. https://doi.org/10.37745/bjmas.2022.0126
Section
Arts, Humanities and Social Sciences
License
This work is licensed under a Creative Commons Attribution 4.0 International License.