The Effects of Currency Redesign 0n Vote Buying and the Quality of the Electoral Process in Ikere Local Government of Ekiti State
Abstract
In an announcement made by the Central Bank of Nigeria governor on October 26, 2022, it was disclosed that new Naira notes would be introduced to replace the existing denominations of 200, 500, and 1,000 Naira notes. The redesign was scheduled to come into effect on Thursday, December 15, 2022   few weeks to the 2023 general elections. This research study examines the effects of the currency redesign on vote buying, quality and integrity of the electoral process in Ikere Local Government Area of Ekiti State. The population of study is 65,651 registered voters in the 11 wards of Ikere Local government. The study adopted a mixed-methods approach, using survey method, analysis of official election data, and non-participant observation, while a simple random sampling technique was used to choose three polling units each from the 11 wards, purposive sampling method was deployed to select 10 respondents each from the 33 selected poling units bringing the number of respondents to 330. Instrument of data collection was the Likert style questionnaire with 0.690 Cronbach Alpha reliability test. Simple percentage and Pearson correlation were two statistical tools deployed in the analysis of data derived from the field survey using Statistical Package for Social Sciences (SPSS).  The findings of this study revealed that the introduction of the new currency had reduced the open buying and selling of votes, however, politicians still found alternative means to induce voters in the just concluded election in Ikere Local Government Area.  The study recommends that Government especially the security agencies should intensify effort through impeccable intelligences to smoke out and prosecutes those involve in vote buying to serve as deterrence for future   elections in order to promote transparency, fairness and improve the quality of the electoral process.
Downloads
Download data is not yet available.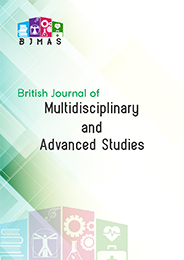 Downloads
Published
11-03-2023 — Updated on 11-03-2023
How to Cite
Omoyeni, T. J. (2023). The Effects of Currency Redesign 0n Vote Buying and the Quality of the Electoral Process in Ikere Local Government of Ekiti State. British Journal of Multidisciplinary and Advanced Studies, 4(2), 1–20. https://doi.org/10.37745/bjmas.2022.0123
Section
Arts, Humanities and Social Sciences
License
This work is licensed under a Creative Commons Attribution 4.0 International License.