Factors Affecting the Intention to Use Internet Banking Services of Individual Customers at Agribank Vietnam - Can Tho Branch, Vietnam
Abstract
The main objective of the study is to determine the factors affecting the intention to use Internet banking services of individual customers at Agribank Can Tho. To achieve the research objectives, the author conducted direct interviews with 285 individual customers through a prepared questionnaire. The results of testing the hypotheses of the research model have been shown that there are 06 independent variables arranged in descending order of impact that have a linear relationship with the dependent variable – Intention to use. Internet banking service of individual customers at Can Tho Agribank includes (1) Utility; (2) Subjective standard; (3) Reliability; (4) Ease of use; (5) Flexibility; (6) Usage cost. Based on the research results, the author proposes some managerial implications to maintain old customers and attract new customers to use Internet banking services of Can Tho Agribank.
Downloads
Download data is not yet available.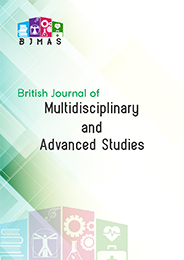 Downloads
Published
06-03-2023 — Updated on 06-03-2023
How to Cite
Khoi, L. Q. (2023). Factors Affecting the Intention to Use Internet Banking Services of Individual Customers at Agribank Vietnam - Can Tho Branch, Vietnam. British Journal of Multidisciplinary and Advanced Studies, 4(2), 1–16. https://doi.org/10.37745/bjmas.2022.0119
Section
Business and Management Sciences
License
This work is licensed under a Creative Commons Attribution 4.0 International License.