The Place of Egungun (Masquerade) In The Growth of Isan Ekiti Community, Ekiti State, Nigeria ,1979-1999
Abstract
 Egungun is a secret society among the Yoruba people of Nigeria, though, bears different names among the various ethnic groups in Nigeria. People of historic town Isan Ekiti were not left out in the celebration of the Egungun festival. This paper attempts to examine the place of Egungun (Masquerade) in the growth of Isan Ekiti, Ekiti State, Nigeria, how it has influenced their life socially, economically and religiously. It uses simple historical methodology involving the use of oral interviews and secondary sources. The paper revealed the rich cultural values of the people in that community, the impacts Egungun (Masquerade) had on their marital life and intra-group relations among different quarters in the community within the period of study. It concluded that Egungun did not just been celebrated in Isan Ekiti community for the fun of it, but an avenue for the reconstruction of their historical past as well as instrument of unity and peaceful co-existence among the people in that community.
Downloads
Download data is not yet available.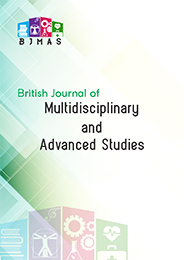 Downloads
Published
03-02-2023 — Updated on 06-03-2023
How to Cite
Kehinde, O. M., Mayowa, O. C., & Ojulopesi, , . B. V. (2023). The Place of Egungun (Masquerade) In The Growth of Isan Ekiti Community, Ekiti State, Nigeria ,1979-1999. British Journal of Multidisciplinary and Advanced Studies, 4(1), 36–45. https://doi.org/10.37745/bjmas.2022.0105 (Original work published February 3, 2023)
Section
Arts, Humanities and Social Sciences
License
This work is licensed under a Creative Commons Attribution 4.0 International License.