The Effect of Eutrophication on Drinking Water
Abstract
The effects of eutrophication on the environment may have deteriorate consequences of health of exposed animal and human populations through various path way's. when fresh water, extracted from eutrophic areas, is used for the production of drinking water severe impacts can also occur during watering in eutrophic waters. eutrophication is complex processes which occurs both in fresh and marine waters, where certain types of algae disturbs the aquatic ecosystem and become a threat for animals and human health the primary cause of eutrophication is an excessive concentration of plant nutrient's originating from agriculture of sewage treatment. The main cause of eutrophication is the large input of nutrient mixed to water body and the main effect is imbalance in the food web that results in the high levels of phytoplankton, zooplankton, algae biomass in stratified water bodies. This can lead algal blooms. The direct consequences is in an excess of oxygen consumption near bottom of the water body. eutrophication processes can be divided in to two categories depending on weather they are linked to the nutrients dispersion and phytoplankaton growth to oxygen cycle near the bottom of the water body. Various effects can be observed depending upon the severity of the eutrophication. Treatment of eutrophic water for producing drinking water. algae disturbs the aquatic ecosystems a threat for animal and human health..eutrophication concern the availability of oxygens. Some species of algae may also contain toxins but incidents where fresh water algae or the origin of cause human or animal illness. Some cynobacteria have capacity to produces toxins dangerous to human beings. A variety of symptoms depending on toxins implicated our observed such as fatigues, headache, diarrhoea, vomiting, and some throat fever skin irritations. Good practices to inform people about risks of bathing or sporting activity in normally colored or turbid waters. Allergic bathers of people walking along shore of water body affected by algae blooms. Any allergies releasing not only toxin but also allergic compounds. In some specific case; local authorities must rely on eutrophic water for producing drinking water.
Downloads
Download data is not yet available.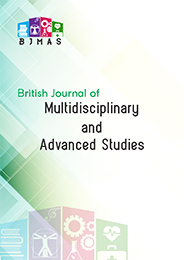 Downloads
Published
19-01-2023 — Updated on 06-03-2023
How to Cite
Mishra, R. K. (2023). The Effect of Eutrophication on Drinking Water. British Journal of Multidisciplinary and Advanced Studies, 4(1), 7–20. https://doi.org/10.37745/bjmas.2022.0096 (Original work published January 19, 2023)
License
This work is licensed under a Creative Commons Attribution 4.0 International License.