Improving Teachers' English Language Proficiency for the Better Achievement of Students' Learning Outcome: A Review of the British Council's STEP Programme in Nigeria
Abstract
Considering the position of the English Language as the medium of instruction in Nigeria and the role played by the teachers using the language in classroom instruction, this paper saw it significant to observe the Strengthening Teachers' English Proficiency (STEP) course as introduced in Jigawa State by the British Council to improve teachers' English Language proficiency through self-study. Doing so is expected to enhance and provide a better learning outcome. The paper supported its views with the self-direct and andragogy approaches to adult learning as the basis for self-study which is believed to be compatible with teachers and teaching. The paper, therefore, tried to highlight the factors that may hinder the success of the programme. The paper stated that time, the commitment of the teachers and the other stakeholders in the state, financial issues and societal attitudes to the use of the English Language could be the challenges to this effort. As a point of concern, the paper suggested that the government, through the Ministry of Education should try to adapt and produce such materials used in the STEP programme and distribute them to teachers, especially those who did not attend the British Council's training. Similar training should also be carried out on regular basis to help teachers embrace using the language frequently in their classes.
Downloads
Download data is not yet available.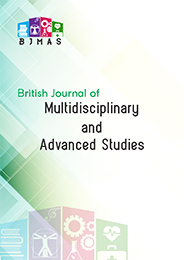 Downloads
Published
19-01-2023 — Updated on 19-01-2023
How to Cite
Aminu , R., Umar, K., & Modu, M. M. (2023). Improving Teachers' English Language Proficiency for the Better Achievement of Students' Learning Outcome: A Review of the British Council's STEP Programme in Nigeria. British Journal of Multidisciplinary and Advanced Studies, 4(1), 58–67. https://doi.org/10.37745/bjmas.2022.0094
Section
English Language, Teaching, Communication, Literature and Linguistics
License
This work is licensed under a Creative Commons Attribution 4.0 International License.