Failed and Prospered Generational Transition Family Businesses in Anambra State – Nigeria: Corporate Governance Practices
Abstract
Defined as commercial enterprises where decision making is influenced by two or more members of a family who own, manage, and operate them, family businesses (FBs) create jobs and wealth, and also form the economic bedrock of many nations. This research examined the corporate governance practices of both failed and prospered generational transition family businesses in Anambra State – Nigeria. After a robust literature review which discussed the differences between family and non-family businesses, the positive and negative sides of FBs, most common generational challenges that face contemporary FBs, the influence of personal characteristics of founders of FBs on corporate survival, as well as corporate governance issues and performance of FBs, the adoption of Taro Yamane formula led to the administration of questionnaire that captured corporate governance practices to 109 founders and directors of FBs in the three main cities of Anambra state. The establishment of the reliability of the instrument was performed with the test-retest method, after which the collected data were analyzed with both descriptive and inferential statistics. The Statistical Package for Social Sciences (SPSS) software was applied to evaluate the corporate governance practices of both failed and prospered generational transition family businesses in Anambra State, after which the results were validated with Analysis of Variance (ANOVA). Although the results revealed that there is no significant difference in corporate governance practices in both the failed and prospered GT FBs in Anambra state with the correlation coefficient (R = .488), and the coefficient of determination (R – Square = .472), which could be attributed to the low level of formal education by the business owners, yet the successful family businesses recorded higher values in entrenched corporate governance, Directors' independence and performance, regular compensation review and management, as well as in properly mentored successors. The Study also revealed that the generational transition challenges faced by the FBs in the State include: lack of succession plan, unavailability of written succession plan, unprepared successor, the inability of the founders to reveal their successors early, lack of proper mentoring, inadequate training for the successors, and lack of interest in the business by the successors. It was later concluded that the entrenchment of corporate governance in FBs will enhance the survival and sustenance of the businesses in the subsequent generations.
Downloads
Download data is not yet available.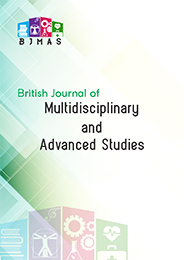 Downloads
Published
11-01-2023 — Updated on 06-03-2023
How to Cite
Okpala , C. C. ., & Onugu, U. C. . (2023). Failed and Prospered Generational Transition Family Businesses in Anambra State – Nigeria: Corporate Governance Practices. British Journal of Multidisciplinary and Advanced Studies, 4(1), 1–22. https://doi.org/10.37745/bjmas.2022.0089 (Original work published January 11, 2023)
License
This work is licensed under a Creative Commons Attribution-NonCommercial-NoDerivatives 4.0 International License.