Τhe impact of fear on the elderly during the COVID-19 pandemic, social support and depressive symptoms: a cross-sectional study
Abstract
The COVID-19 pandemic has had a worldwide impact on all age groups, and in particular on the elderly who constitute a vulnerable section of the population which is constantly increasing in number. The adverse effects of the pandemic have been associated with increased rates of geriatric depression and the feeling of fear among the elderly, leading to social isolation, increased stress and limitation of daily activities. These factors negatively influence both the mental and physical health of the elderly whose aging deficits already render them more prone to physical, mental, social and economic deprivation. This cross-sectional study aimed to investigate how fear caused by the pandemic has affected the lives, the daily habits, the social support network and the emotional and physical state of the senior citizens in the wider area of Phaistos, in Crete, and how the impact of the pandemic is linked to geriatric depression. With a total sampling of 200 participants over 65 years of age, the measuring instruments used in the study were the SSQ-6 (Social Support Questionnaire) to investigate social support and the GDS-15 (Geriatric Depression Scale) to investigate depression.
Downloads
Download data is not yet available.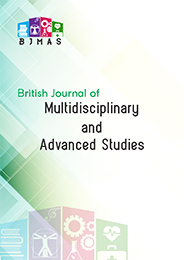 Downloads
Published
05-01-2023 — Updated on 06-03-2023
How to Cite
Mentis, M. ., Lamprinakou, I. ., Garantoudi, A. ., Mavroeidi, E. ., & Konstantopoulou , G. . (2023). Τhe impact of fear on the elderly during the COVID-19 pandemic, social support and depressive symptoms: a cross-sectional study. British Journal of Multidisciplinary and Advanced Studies, 4(1), 11–24. https://doi.org/10.37745/bjmas.2022.0086 (Original work published January 5, 2023)
Section
Health and Medical Sciences
License
This work is licensed under a Creative Commons Attribution-NonCommercial-NoDerivatives 4.0 International License.