How parental internet use impacted parenting practices and children's behavior during the Covid-19 pandemic
Abstract
Our survey aimed to investigate how online parental behavior affects their parenting practices and how such practices may affect their family relations, their children's social competencies, school achievements, and self–esteem. We examined a sample of 357 Greek-speaking parents (77.3% mothers and 22.7% fathers). We applied Young's (1998) Internet Addiction Questionnaire, the Alabama Parenting Questionnaire (APQ), and Kontopoulou's (2008) questionnaire to assess children's school performance and social competencies, their self-esteem, and family relationships. Our findings indicated that almost half of the participants are moderately addicted to the internet. Parental pathological internet use affects parental style and consequently impacts family relations and children's behavior. Gaining knowledge from the research data helps design and implement intervention programs to prevent and raise public awareness through psychoeducational information programs towards preventing internet addiction. Keywords: compulsive behavior, covid-19, internet addiction, online risks, parenting practices, pathological internet use.
Downloads
Download data is not yet available.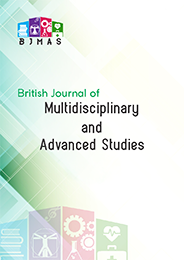 Downloads
Published
21-12-2022 — Updated on 21-12-2022
How to Cite
Hadjicharalambous, . D. ., Demetriou, . L. ., & Michael – Hadjikyriakou , E. . (2022). How parental internet use impacted parenting practices and children's behavior during the Covid-19 pandemic . British Journal of Multidisciplinary and Advanced Studies, 3(2), 47–66. https://doi.org/10.37745/bjmas.2022.0067
Section
Health and Medical Sciences
License
This work is licensed under a Creative Commons Attribution-NonCommercial-NoDerivatives 4.0 International License.