Nigerian Christians and National Rebirth: Nehemiah's Response in the Bible as a Paradigm
Abstract
Nigeria in no doubt needs to be saved from her present predicaments. This work therefore has arisen from the present state of our dear nation Nigeria. The paper is a clarion call to Nigerian Christians for the rescue of our nation, using Nehemiah example. It is imperative to say Nigeria needs a rebirth at this critical time because of the vices that have penetrated every nook and cranny of the nation. It has been noted lately that the values, principles, love and unity that bind the country together have been eroded. This therefore necessitated the introduction of Nehemiah ideas in response to the state of his nation as a clarion call to Nigerian Christians both home and abroad to rescue Nigeria from her present predicaments. Nehemiah was a man who accepted responsibility on behalf of others. This paper adopted a systematic and scrupulous referenced study of primary materials such as archives, newspaper, government and non-governmental report and consultation of relevant books. The paper revealed that, Christians must be patriot just like Nehemiah who was concerned with the state of his nation. Christians should also emulate his efforts in rebuilding his nation despite the stiff oppositions he faced. In the same vein, Christians in Nigeria should arise and condemn social evils which permeate our contemporary Nigeria.
Downloads
Download data is not yet available.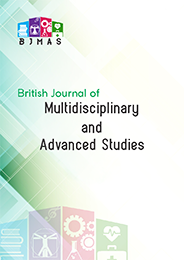 Downloads
Published
16-11-2022 — Updated on 03-01-2023
How to Cite
Adabembe , K. O. . (2023). Nigerian Christians and National Rebirth: Nehemiah's Response in the Bible as a Paradigm. British Journal of Multidisciplinary and Advanced Studies, 3(2), 21–30. https://doi.org/10.37745/bjmas.2022.0039 (Original work published November 16, 2022)
Section
Arts, Humanities and Social Sciences
License
This work is licensed under a Creative Commons Attribution-NonCommercial-NoDerivatives 4.0 International License.